Specialty Chemical Processing / Large Scale Syntheses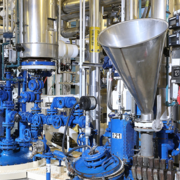 The MSU BI (Bioeconomy Institute) team has extensive experience working with a wide variety of clients from different fields and in performing chemical processes on a commercial scale.
The Holland scale-up and production facility provides specialty chemical process development, proof of concept and manufacturing resources allowing organizations to quickly and cost effectively extend their capabilities without committing the capital to build a facility.
The scale-up facility has 31,400 liters of glass-lined, Hastelloy and stainless steel capacity. The facility is rated as Class I, Division I, Group D and is Process Safety Management (PSM) compliant, has a flexible State of Michigan Air Permit and employs personnel that are qualified to handle hazardous waste. Our team has experience performing reactions from -100°C to 230°C and from full vacuum to 50psi.
Contact us: http://bioeconomy.msu.edu/contact-us/