Cell Sorters
BD Influx (BPS - Rm 5115) Assisted Sorting $45/hr
The BD Influx Sorter can detect up to 14 colors with a maximum of 16 parameters. Forward scatter is collected from a high sensitivity detector unit with resolution slightly below 0.2 μm.
Installed in a Baker BioProtect IV Biosafety Cabinet to allow for sorting of BSL-2 samples.
Sorting up to 50x106 cells/hour (cell-type dependent).
70, 100, 130, and 200 µm nozzles available.
Up to 6 populations sorted simultaneously into Eppendorf tubes, 5 mL, or 15 mL conical tubes.
Populations can also be sorted directly into multi-well plates, up to 384-well.
5 laser system (up to 14 fluorescent parameters):

UV 355nm – Hoechst, Indo-1, AF350, BUV dyes
Violet 405nm – AF405, BV dyes, Pac Blue, Pac Orange
Blue 488nm – GFP, FITC, YFP, PerCp-Cy5.5 (FSC PMT)
Y-G 552nm – PE, mCherry, tdTomato, fruit dyes, PE-Cy7
Red 633nm – APC, AF700, APC-Cy7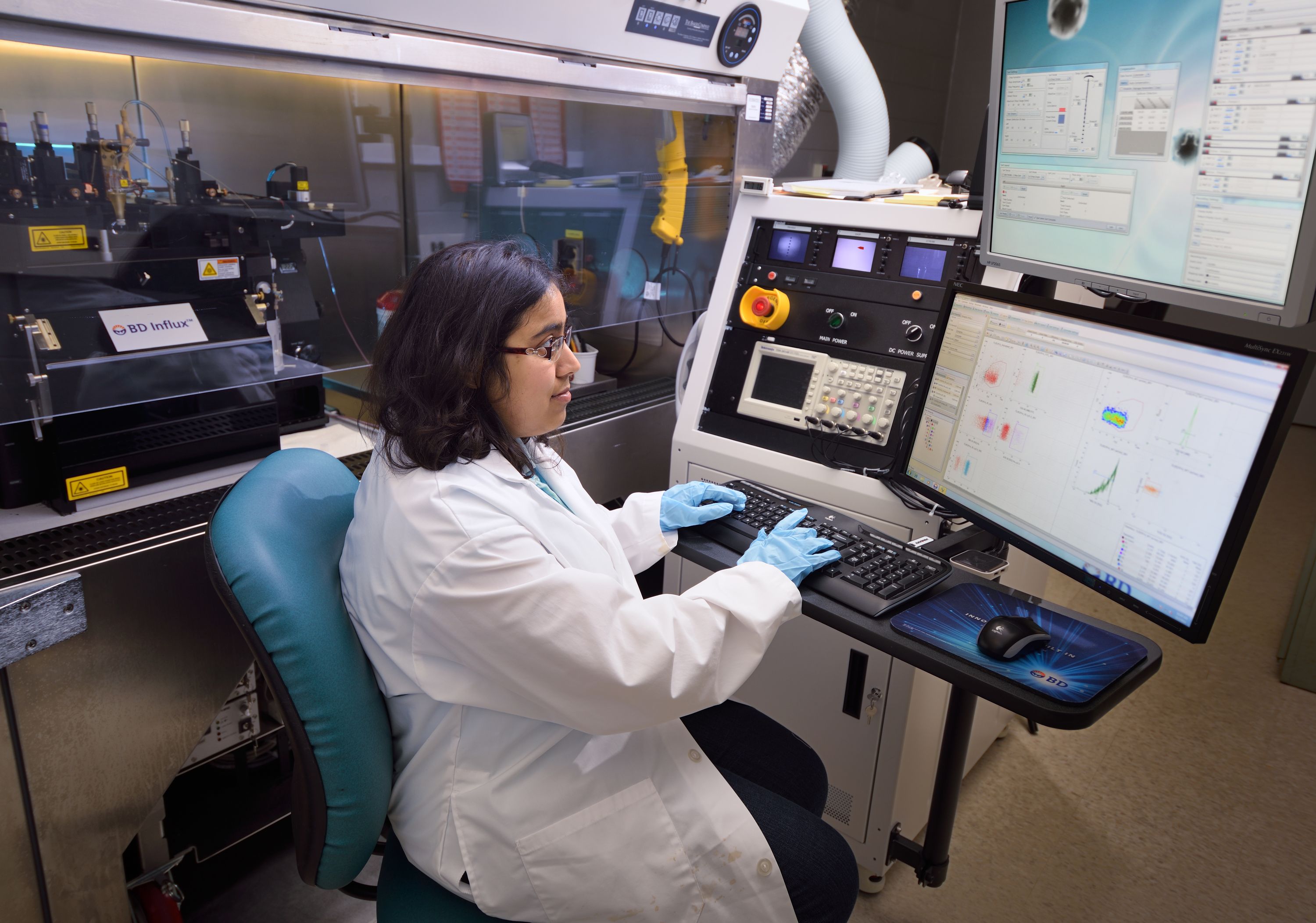 BD Influx Instrument Configuration
---
BD FACSAria IIu (IQ - Rm 2522) Assisted Sorting $129.68/hr
The BD FACSAria IIu is the original model FACSAria-I cell sorter that has been upgraded with a FACSAria II flow cell and fluidics.
Installed in a Baker BioProtect IV Biosafety Cabinet to allow for sorting of BSL-2 samples.
Sorting up to 50x106 cells/hour (cell-type dependent).
70, 85, & 100 µm nozzles available.
Up to 4 populations sorted simultaneously into Eppendorf tubes, 5 mL, or 15 mL conical tubes.
Populations can also be sorted directly into multi-well plates, up to 96-well.
3 laser system (up to 13 fluorescent parameters):

Violet 405nm - 100 mW laser (4 detectors)
Blue 488nm - 50 mW laser (6 detectors + FSC/SSC)
Red 633nm - 100 mW laser (3 detectors)